Black Pumas Midnight Sale & Prizes! Join us at midnight on 11/27!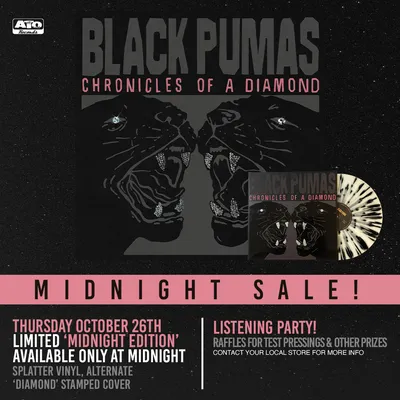 Join us at 11:59 PM on Thursday 11/26 for an exclusive Black Pumas Midnight Sale for the new album "Chronicles Of A Diamond"! We will be selling and exclusive "Midnight" version, (Black on Black Splatter with foil cover-ONLY AVAILABLE at he midnight sale) and giving away prizes like posters and slipmats with purchase. We will also raffle test pressings and a Black Pumas Prize Pack.
You can also pick up your 11/27 new releases at that time. If you show up, we'll give you 20% off all NON New-Release titles at that time. That's incentive enough to come on down! We'll also maybe have some beverages and snacks to share while you shop. See you there!
This event is at midnight on 11/27 so don't go to bed Thursday night, just come down to the store and hang with us and fellow Black Pumas fans!