The RSD Black Friday list is out now! Take a look at all the vinyl goodness that will be available this year!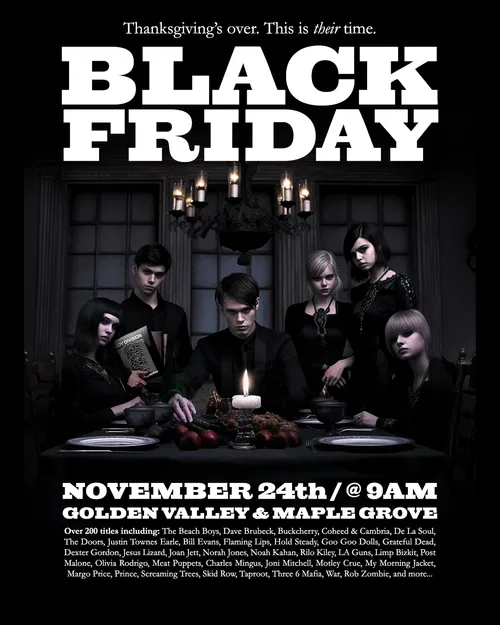 RSD Black Friday
Friday November 11/24
Doors open @9AM
Reminder: It's Black Friday time, a smaller version of Record Store Day, with limited edition copies of exclusive titles only found at indie record stores like us! Here's a few things to know about the Black Friday Event at Down In The Valley
-Doors open at 9am at our Golden Valley and Maple Grove locations
-No advanced pre-orders or holds on any BF titles. BF titles are VERY LIMITED and sold on a first come, first serve basis so arrive early for your best shot at getting the titles you want.
-BF titles vary between locations in quantity and stock levels. We will send out a specific BF email next week to VIP Members listing which stores have each title.
-Only available in our stores 11/24 through the weekend. We will put any remainders online on Monday 11/27. (more details to come)
-All titles are limited to 1 per customer of any single title.  (You can buy multiple BF titles of course)
-VIP Members can choose 8 BF titles the first time through the line. Non-VIP members can choose 6. You can go through the line as many times as you'd like but we will still honor 1 of each title/customer.
-The entire store is open for shopping, not just BF vinyl.  This is a great time to get a jump on your xmas shopping so bring your lists and we'll help you find everything you need.
For a complete list of Black Friday titles ---> https://downinthevalley.com/Genre/696009