Fleetwood Mac - "Rumours Live" Listening Party 09/06 @5:30pm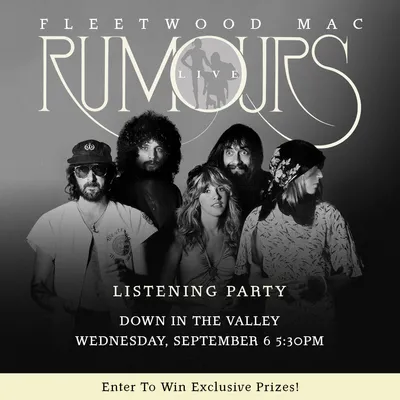 Join us Wednesday 09/06 at 5:30pm for a special listening party preview of "Rumours Live" at our Golden Valley location.  Guests will hear the album and also be entered to win special prizes! The band was at the top of its game in August 1977 when the band returned to its adopted home in Southern California to play three shows at The Forum in Los Angeles. RUMOURS had only been out a few weeks when the band left in February to tour the world, returning six months later to play three shows at The Forum for nearly 50,000 fans.
This is your chance to hear the album before it is released to the world on 09/08. You can pre-order your copy using the links below or place when you attend the party.  This event is free and open to the public. No purchase is necessary to win but only attendees can take home a prize.  See you there!
Special Prizes:
-20 Vintage Show Poster
-10 Rumours Live slipmats
-2 Event exclusive 18x24 Limited Posters signed and numbered by the artist (Dylan Fant )
-1 copy of the album